All Features
Here is all features list available on this item.
Responsive and Mobile Ready
Fully responsive and mobile ready.
Unlimited product slider
You can create unlimited product slider by this plugin and display anywhere via shortcodes.
Custom column number
You can set custom number of slider column number for different devices like desktop, tablet and mobile.
Slider auto play
You can choose slider autoplay on page load completed, so that slider will automatically slide your product to display your customers. you can also set custom values for autoplay speed and timeout.
Slider stop on hover
When your customer want to see a product on the slider it will automatically stop sliding so that your customer can drag by mouse or touch on mobile device to check their desired products.
Slider touch drag & mouse drag
This is responsive product slider so your customers can slide products by mouse drag or touch dragging based on their devices.
Slider rewind & loop
You can set the slider to re-wind when slide item reached to end of the slider and it will automatically start slider from first product. you can also set loop so that slider will never stop and continuously slide to loop through each product.
Slider center
You can choose slider item to display one product on center so both side will display 2 product on half size.
Slider navigations
You can display slider navigations so that user can click these to check or slide product one by one, you can also set position for navigation like top-right, top-left, bottom-left, bottom-right, middle, middle fixed. you can also choose some pre-defined style for navigations, set custom value for navigation sliding speed. also custom background color and text color also available to customize as you need.
Slider Navigation position middle.
Slider dots
You can display slider pagination or dots at bottom so that user can click these to check or slide product by each screen, you can set custom value for dots sliding speed. also custom background color and hover or active color also available to customize as you need.
Slider RTL
If you website is running with RTL languages you are feel free to use, this slider plugin has great support for RTL languages.
Slider lazy load
You can enable lazy load to delay load product thumbnails which product is not in current view, it will increase your page speed and great support for SEO friendly product slider for your WooCommerce.
Hide out of stock
You can choose option to hide products these are out of stock so that your customers will not see the products are not currently available in stock. this is user-friendly product slider that will minimize user frustration.
[PRO]

On-sale products

You can display or hide on-sale product on the slider, this is really amazing feature for which customer are looking for on-sale products on your site, this will definitely help you to attract customer and increase product sale.
[PRO]

Best selling products

You can display best selling products based on any categories or tags and custom taxonomies or attributes.
[PRO]

Top Rated products

You can display top-rated products based on categories, tags or custom taxonomies or attributes.
[PRO]

Product categories & tags

You can choose any product categories or product tag to query product. you can also choose multiple product categories to query product to display on slider. we added terms relations for query products so you can choose conditional product queries based on product categories or tags.
Product by ids
This is an exclusive feature if you want to display product slider by product ids, if you have some exclusive product for customer you can display these easily.
[PRO]

Display by SKU
[PRO]

Recently viewed products

You can display recently viewed products by customer.
[PRO]

Featured products at first

You can display featured products at first and then other products.
[PRO]

Advance meta fields query

Query products based on meta fields for advance product queries.
[PRO]

Upsells, Cross-sells Product

this only work in single product page
[PRO]

Quantity field with add to cart button
[PRO]

Related product slider

You can display WCPS as related product slider on the single product page.
Highlighted Features
Here is some highlighted feature that make the plugin unique..
30+ Total Different Ready Themes.
Most of the woocommerce slider is lack of theme variation. We have added 30+ sliding themes . Now you can choose theme with variation and can personalize nicely. This vast collection of theme is the exclusive thing about this plugin.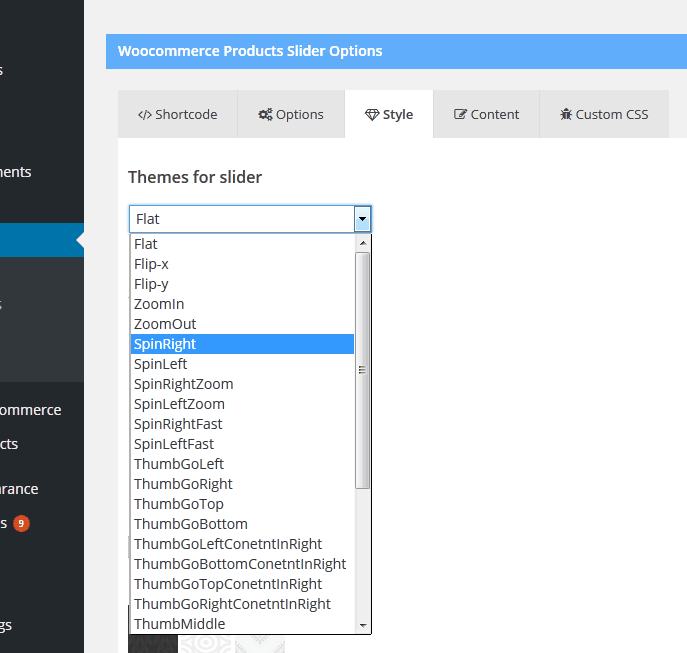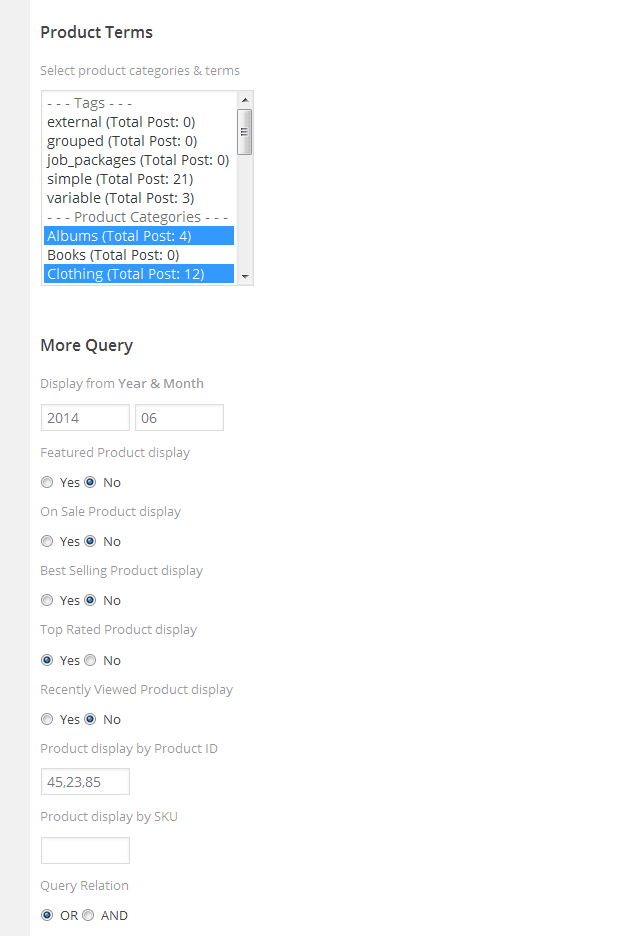 Filter Slider Content.
You can filter the publication of content  by using this feature. Like this kind of content: Latest Published, Older Published, Featured Product, On Sale Product, Best Selling Product, Top Rated Product, Product Taxonomy & Categories, Product id and etc. This will decorate the site more effectively and will enhance the visitors interest.
20 Ready Ribbons.
Ribbons are very much needed in  any site to mark any exclusive product or offer. We have 20 ready different kind of Ribbons just for your woocomerce site. Also you can add your own choice of ribbon if you want by putting url in setting.
Add your own Color & Font size
Customize your slider by your own color and font size for slider items title, price and add to cart buttons. This feature is a little bit difference than other woocommerce slider.
Meta Query
You can display your product based on meta query. This is an advanced search feature. This is necessary and demandful in any woo commerce slider.