What do we mean here about the term Product filtering? Well, filtering means to separate the desired thing from others. When you are planning to build a Woocommerce site, there will be stored a ton of products. They may vary from color to color, size to size, specifications to specifications. Everybody doesn't have the same choice and it may differ from person to person. Usually, people prefer online shopping to save valuable time. But it will be so much time to consume for them if they have to find the desired product from the midst of the ton of products. So what can be the ultimate solution to this problem? A Woocommerce product filter plugin can do the job pretty neatly!!!
This plugin will help your customer to find their desired product easily and swiftly. There are so many useful plugins. Let's take a timeout and have a good look at some plugins which can really help you to get the product filter job done!!
If you are searching for a simple, easy-to-use, and useful filter plugin, you are reading the right review. It is Woocommerce shop filter. It has a filter option with keywords, product categories, price range, on sale products. So anyone can search the products based on many factors. There is a nice display filter form under the sidebar and plenty of shortcodes and widgets that will be necessary. In your site, you can add a custom input field and you can do some real implementation job done through action hooks. It's a nice plugin for a Woocommerce site with a user-friendly and SEO optimized.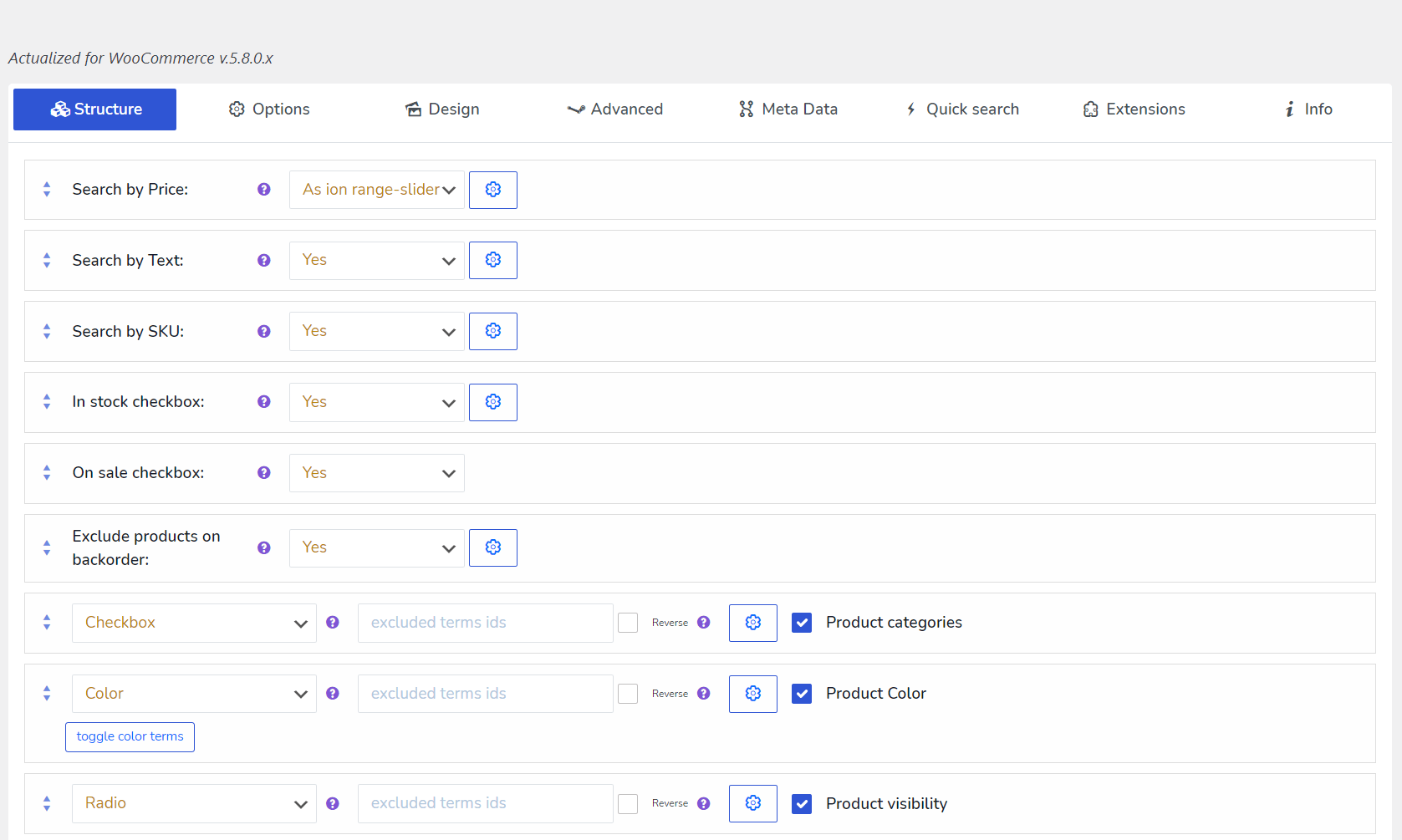 This plugin has ranked #1 recently. This is an "all in one" plugin as a product filter plugin. You can do all sorts of filter job by this plugin. It is a must-have plugin for any Woocommerce site. The customer can easily search their products based on category, attributes, price tag, taxonomies. This Woocommerce filter plugin has a unique feature that's called FIlter analytics. It will give your customers a clear review of popular filter terms so they can have a clear idea of your store. It will help them to earn a better store experience. It is compatible with any version of WordPress version. The filter layout is customizable and it has built-in integrated many layouts. Product searching can be done by Ajax. The developer has integrated many Woocommerce shortcodes so it's pretty easy to do the customization job done. If anyone wants a more precise modification, he or she can do it too but they have to have advanced PHP knowledge. Native Woocommerce API has been used in this Woocommerce product filter plugin. With the infinite scrolling option, the product searching process is so much fast and flexible. Also, a customer can do a quick search on your site if they want. Translation-ready and SEO-friendly like other plugins.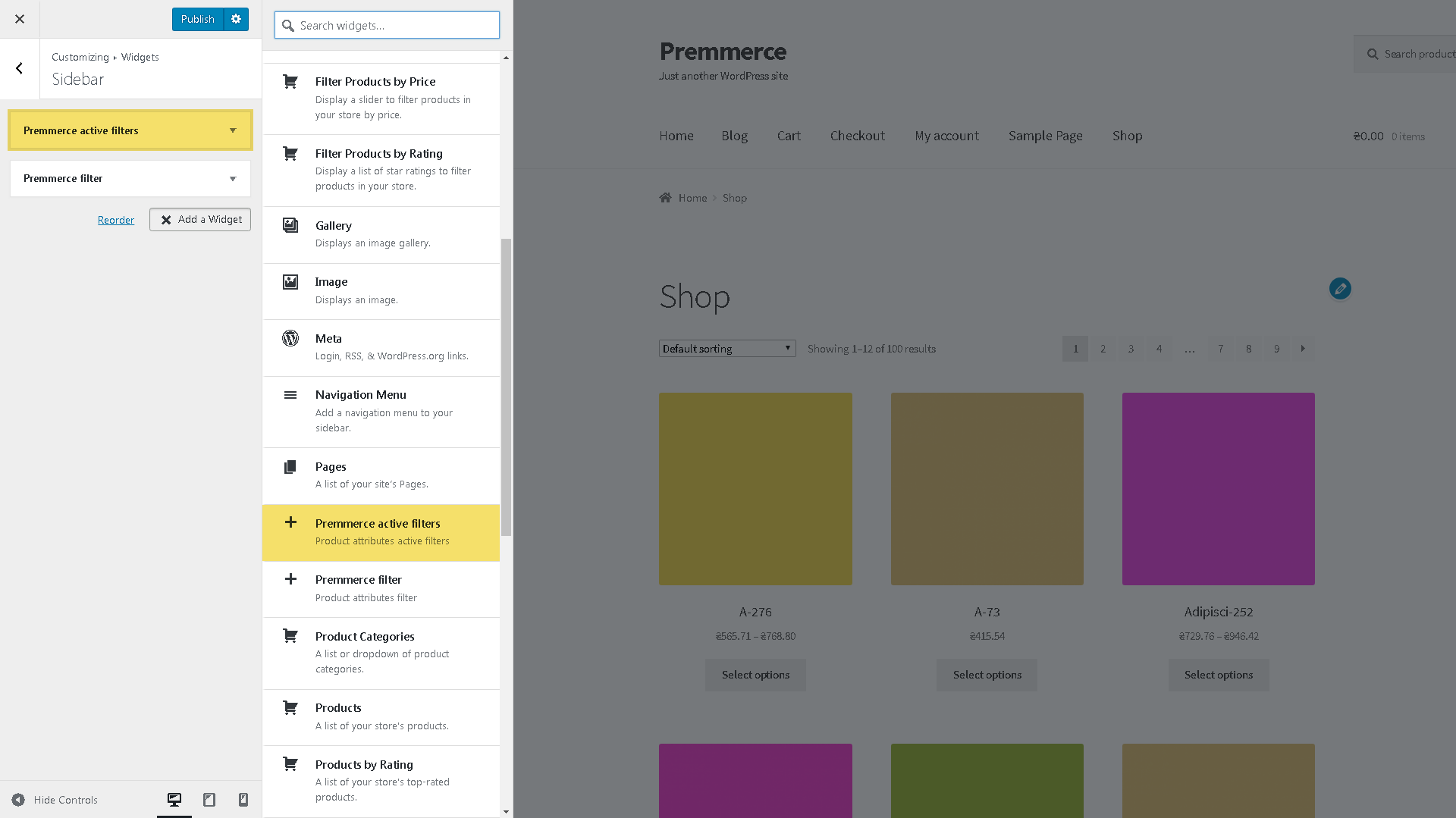 Ahoy!! A new boy in the street. This plugin is new but has some effective reasons to be on this list. It has a single widget which shows all the product filter process. It's cool, right? You can get all processes in a single widget. Perfect ajax it has, has some cool SEO features that work really great. Also one can filter the search results. It is compatible with all versions of Woocommerce and integrates well with other premmerce products. It has an efficient and effective caching system. So the search process will be done very smoothly and fast. With detailed and further documentation, one can easily use this plugin. Though it's a new plugin it can compete with another good filter plugin around.
Themify is one of the best Woocommerce product filter plugins. Why we are calling it best? Cause it has some awesome features that deserve the degree "best". The customer can search the products by category, price, tag, etc. After doing the search they can see a live result of it. This is the exceptional feature of this Woocommerce product filter plugin. Also, customers can combine the filter option together. This can't be done on many plugins. It has a built-in page builder. So anyone can do the customization by his or her own by the drag and drop feature. Modification of your own site has now become a piece of cake. Also, the layout can arrange in vertical angle or horizontal angle. It has a totally user-friendly interface and supports many features. Totally SEO-friendly and user-friendly.
Another Nice Woocommerce product filter is here. It's a swift and suitable one for any kind of Woocommerce site. This is a very handy filter plugin for customers. They can find their desired products in a short time. This plugin gives the site a powerful filter widget with Ajax product filter. It assures the customers to find their exact product with the proper specification. They can search the product on basis of label, color, dropdown, list. A customer can reset the previous search history to make a fresh start. Easy to customize and compatible with all versions.
This is just another Ajax filter that has numerous filters. It has some good and useful features which are come in handy for all kinds of customers. It has a drag-drop filter building feature. So no need to have good code knowledge to build a filter. IT can sort the products and can navigate to the next or previous page without any loading process. It's a very unique characteristic that makes it more acceptable. Not only the customers can search the product by product quality but also they can search the product by setting the price range, not so many plugins can serve this kind of benefit. When in a mobile device the extra options will be hidden to avoid the complex.
These filter plugins are the most preferable ones to use in any kind of Woocommerce site. When you will use this awesome plugin on your site, Your customers will find it too much easy to find a product in your store. They won't feel the necessity to go to any other store. Read, install a plugin according to your requirement and have a nice experience.