As I've been in the industry for a couple of years, got a bunch of opportunities to interview developers for diverging posts. I found the maximum of interviewees makes the same mistake, do you know what is that? They can't impress interviewers at the first glance. Even some of them don't pay heed to making their resume professional. There are plenty of WordPress resume builder plugins available for those who want to create a professional resume website on the fly. I've listed 7 CV maker WordPress plugins for your consideration. Let's dive and get the best fit
If you know about WordPress or developer, I believe you are comfortable with using WordPress plugins to build a resume website. If you are looking for a WordPress plugin to take your paper CV from offline to online. I've some suggestions to do so.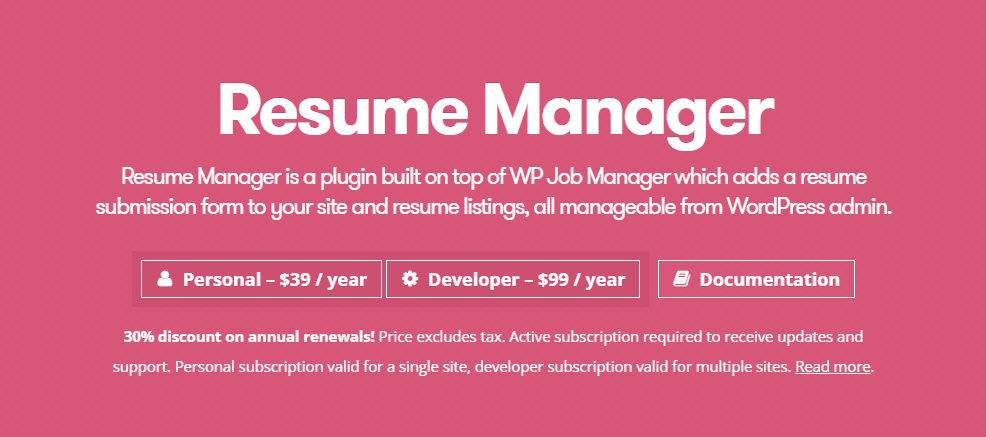 Resume Manager is a user-friendly resume-making plugin for WP Job Manager. The plugin is simple and lightweight can impress your interviewer taking no time. So, if you can perfectly place your career details, the plugin is capable of making your future boss say WOW. It convinces him to take you in his team. The plugin is powerful, yet it doesn't come with fuss elements that can make you confused.
As I look through the feature, I realize the plugin developer has invested a lot of time to make it cutting-edge and easy to use. When you head to the plugin backend, you'll find it incorporate filterable setting options with a drag and drop interface. From where you can input your desired data and customize them according to your need.
The resume plugin is responsive. The plugin developer claims its compatibility throughout the latest WordPress versions and essential plugins.
Resume Builder is a complete solution to add your career details, contact info, and skills with ease. The plugin is simple and easy to use. It comes with enough custom fields to add your profile picture, experience, education, and other relevant details with fun.
It doesn't require writing code to add any section to customize features. The resume builder plugin has all functionality equipped to make your life easier.
Creating a WordPress resume website is the same as creating a WordPress post. You can use shortcodes to rearrange resume contents. On top of that, you can add widgets to present your particular resume element on the widgetized area.
I know you might be thinking about the design, right? The developer has packed a sleek page template to showcase your resume details that experienced interviewers love.
If you have been in the industry as a WordPress developer, you must hear the name, Resume Manager. The fantastic plugin solution to create online resumes. Resume Manager is featured-packed, supports section for education, experience. Besides adding common resume details, it allows you to insert the name of the institution from where you get educational degrees.
The plugin is powerful, can build multiple resumes on the same page. Everything you can perform without writing a single line of code.
The proficient and industry leaders have brought the plugin. They have implemented top-notch UX and design interfaces. On the other hand, you can install this plugin in one click.
The concept of designing this plugin is amazing. You can reorder resume elements with the drag and drop feature. WP Resume offers WYSIWYG editor and supports many of languages like Spanish, Portuguese, French.
JS Job Manager has a built-in customizable CV builder. Resume building is the solution that runs on the cloud. You can edit your resume on your website live page using JS Job Manager account. After installing this plugin, you can add it as a widget on your website blog, or you can create a dedicated page to publish your biodata details.
JS Job Manager Resume is powerful, don't take more than 2 minutes to install. Unlike other WordPress resume-building plugins, it provides control of changing resume frontend style.
Moreover, you can import content from your Linkedin and Facebook with a couple of seconds. If you can go further from the free version to Premium, JS Job Manager Resume offers analytics to keep track of visitors and page views.
The amazing part of this tool. It's well-documented and comes with video narrating. It means getting the virtual company of developers while configuring this plugin.
Veecard is a responsive and elegant-looking free resume WordPress website theme. The color of this theme excellent can create a sophisticated impress at the first gallery. The site theme comes with five separate pages. The home page includes an individual photo, short details of professional excellence, and a mailing address. The resume page provides in-depth details of the person's career.
On the other hand, showcase, blog, and contact form are there to add a surplus to create a strong place over the interviewer mind. The resume theme comes with the inclusion of good documentation and demo data. So, this theme and built your online CV.
If you face any inconvenience to kickstart your resume site, Shape5 provides forum support to help you out.
vCard WordPress Theme
SiteOrigin is the industry leader; they understand the growing needs of website lovers. Besides providing an unmatched solution for WordPress developers, they offer free vCard WordPress themes. The resume website building WordPress theme is simple, lightweight, and clean. It comes with four pages to present person details comprehensively.
vCard by SiteOrigin is responsive and mobile device friendly. It means it can keep the appearance of your online excellent throughout the various high-resolution screen and the smallest mobile devices.
The free resume theme is well-documented. Developers are available for providing technical support. So, if you are a newbie in WordPress, don't worry everyone gets help with the fun.
Conclusion
Creative people remain busy with their personal work. They don't get time to write or send manual CVs again and again. To save their valuable time, Pickplugins has brought you a collection of the best WordPress resume builder plugins and themes. It let them create their own online resume or fulfill clients' requirements feasibly.