There are thousands of varieties of profession exist in the current world. It's not possible for WordPress to build website themes or templates for them individually. But for professional purposes, you have to keep up to date your website by giving the various types of posts, content. But how can u do that? You may have your own choice of color combination and paragraph style.
You will always try to arrange your site differently than others. In that case, you need a custom fields plugin. A custom field plugin will fulfill your all test of desire. A custom field or form is needed to receive input data from users who visit your website, this is absolutely necessary for developing website types such as online directory sites, free classified ads, real estate listings, etc. If you use WordPress for your website, then it will not be difficult to make all kinds of fields and forms for your website.
Today we will talk about some awesome and user-friendly custom fields plugin which will help you to customize your WordPress site's content and post. So let's roll out to the Post!!
Advance custom fields are the plugin that brings a revolution in the criteria of custom field plugin. It is downloaded over 1 million+ times. The question is why? Because it is the finest and simplest custom fields plugin ever. Advanced Custom Fields is the perfect solution for any WordPress website which needs more flexible data like other Content Management Systems. This plugin will help you to create your post field visually. It has a simple and friendly API so data loading will be so much fast. It uses the native WordPress metadata for ease of use and fast processing.
To help provide the most seamless update possible, the developers have included a simple Early Access opt-in feature to enable the update now.
CMB2 is a designer's toolbox for building meta boxes, custom fields, and structures for WordPress that will take your breath away. Effectively oversee meta for posts, terms, clients, remarks, or make custom alternative pages. CMB2 is a total modify of Custom Metaboxes and Fields for WordPress. To begin, please take the cases in the included case functions.php record and observe the essential use directions.
This Plugin has some awesome features like you can modify many aspects of the library without editing it directly. Cause there is a huge collection of hooks and filters. Repeatable fields for most field types are supported, as well as repeatable field groups. It is so much safe to use in any kind of project.
Meta Box module is a user-friendly, efficient toolbox for designers to make and handle everything under control. With custom meta boxes and custom fields for the WordPress custom fields plugin. The module gives an extensive variety of field composes and a considerable measure of choices for each field write, which gives you boundless plausibility to control and redo the custom fields.
With the expansions, you can without much of a stretch form meta boxes for custom post writes (default), as well as for settings page, client meta, term meta. You can likewise show the fields the way you need with sections, tabs, or gatherings. The module requires a touch of coding, however in the event that you're not comfortable with coding or favor GUI for quicker making custom post composes, meta boxes, and custom fields.
Type is an aggregate and strong module for regulating custom post creates, custom logical arrangements and custom fields. It empowers you to reconsider the WordPress Admin interface and change it into your own specific substance organization structure. Custom fields on this module use the standard WordPress post-metadata, so it is great with any subject and module. Custom fields fuse radio social occasion, photo, Skype, URL, and embedded media.
Type is interesting from alternate modules. Cause it has both designer amicable and additionally easy to understand interface. On the off chance that you know to code, there's PHP API accessible for you. In case you're not that dev-adroit, you can utilize the basic GUI. You will have the capacity to create the WordPress administrator and transform it into your own one-of-a-kind substance administration framework.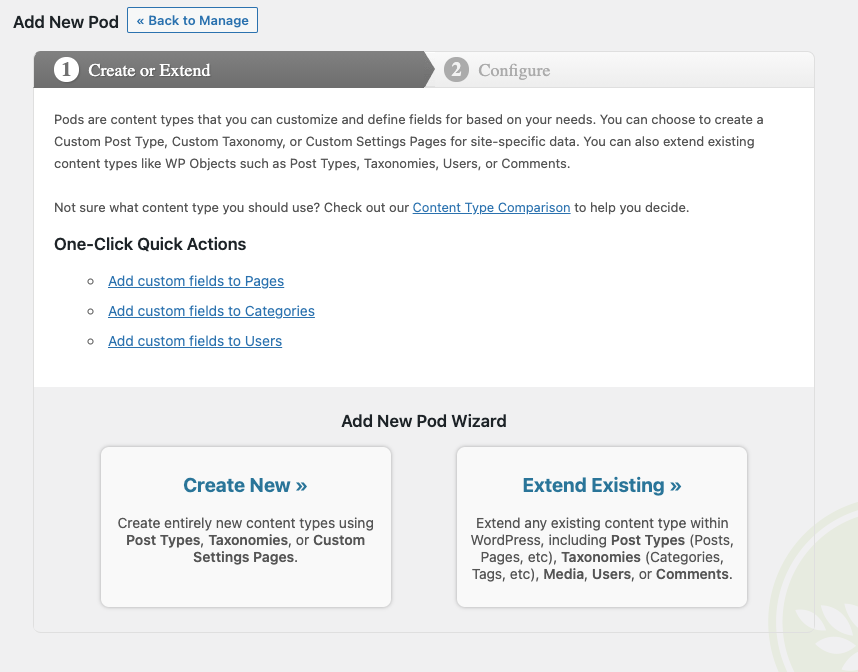 Pods define themselves as "a framework for creating, managing, and deploying customized content types and fields."With Pods, you can create custom post types and taxonomies, custom settings pages, and other advanced custom types. For a beginner, it won't be a good choice cause this WordPress custom fields plugin is kinda complex to handle.
It is by far a wide margin, the most choice-rich and powerful module for what it does. Notwithstanding, it is convoluted, and keeping in mind that the documentation is really great, despite everything it isn't something that may be anything but difficult to get a handle on for an amateur. The plugin likewise gives you a chance to make custom settings pages and even propelled content composes (ones that don't utilize the default WordPress tables in the database, yet rather make their own). You can likewise broaden the current substance composes, scientific categorizations, media, clients, and even remarks.
Custom Post field is totally free Plugin. It's way too much cool as a free plugin cause it's lightweight. It has 14 field types and no extra plan. It utilizes the WordPress administrator UI for the most extreme convenience and it bolsters the formation of custom field composes. Field writes that accompany the module incorporates WYSIWYG, record transfer, relationship, client, and circle. This plugin does not provide any kind of technical support as it's totally free.
Presenting you a custom field plugin made with elegance. The name is Carbon Fields. You can add containers for post types and that kind of thing anywhere. Also, there is a widget available. You can easily extend this as it's designed in an object-oriented fashion. So it's easy for the developers to custom at their own will. With this cool custom field plugin creating rich, flexible custom widgets with your preferred selection of custom fields are now child's play. It's Totally Free and ideal for commercial use.
WCK, or WordPress Creation Kit, is potentially the easiest plugin in this specialty. Its interface is direct, strangely simple to utilize, and it does what it should do: gives you a chance to make and oversee custom post writes. WordPress Creation Kit consists of three tools that can help you create and maintain custom post types, custom taxonomies, and most importantly, custom fields and meta boxes for your posts, pages, or CPT's. This is one of the fine and more acceptable than any other plugin currently. Because it is designed so perfectly and user-friendly. So you don't have to face a slight amount of trouble to install it.
Now it's your choice what kind of custom fields plugin you will use for your WordPress Site. These plugins are reviewed carefully and tested individually. So, you can rely on this review, good luck for choosing wisely.